During the hustle and bustle of busy weeknights, sometimes popping in a quick microwave meal is tempting. But instead of succumbing to a store-bought frozen dinner — which is likely stacked with sodium, other additives and unhealthy fats — have your own homemade options on hand.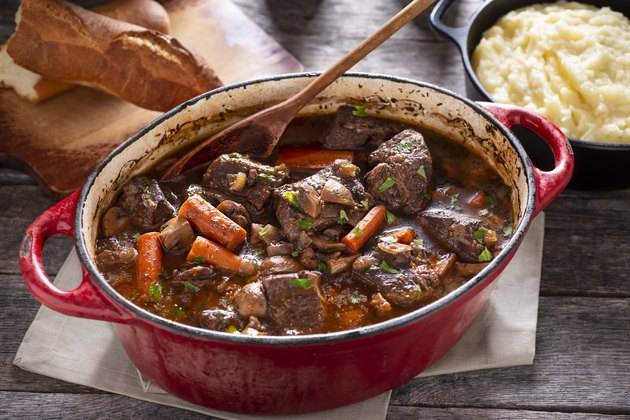 Stock your freezer space with these six healthy, low-calorie freezer meals that won't disrupt your weight-loss plan. All have fewer than 500 calories per serving and are packed with nutrient-rich veggies and fruit (a great way to use fresh produce before it goes bad).
Simply reheat these meals and dig in — your future self will thank you!
1. Kale and
Wild Mushroom Flatbread Pizza
"When it comes to health and weight loss, I'm a huge advocate for eating as many fruits and greens as possible, and this recipe is a great example of how you can make one of your favorite meals more plant-forward in a simple way," Erika Fox, RDN, registered dietitian and community manager for 310 Nutrition, tells LIVESTRONG.com.
A fantastic alternative to traditional pizza, this flatbread is overflowing with nutritious, immune-supportive veggies like mushrooms and spinach, which are both rich in vitamin C and antioxidants.
The use of whole-grain naan — versus regular pizza dough — adds even more vitamins, minerals and fiber to help keep you full, she says.
High-fiber foods, especially, can help with weight loss because they tend to be less energy-dense, meaning they have fewer calories for the same volume of food, according to the Mayo Clinic.
To reduce sodium and other preservatives, Fox suggests swapping in full-fat cheese for the part-skim varieties.
"As a result of extracting fat in processing, low-fat and skim products are often filled with sugar and additives, while full-fat products are less processed," she explains. And if you're concerned about the fat content, just use a little less.
To reheat: In an oven heated to 350 degrees Fahrenheit, warm the flatbread on a baking sheet until the cheese is melty and just a bit bubbly. "Heating this type of dish in the oven will help keep it nice and crispy compared to mushy from the microwave," Fox says.
2. Curry Coconut Chicken, Red Lentils and Bok
Choy (Family-Style)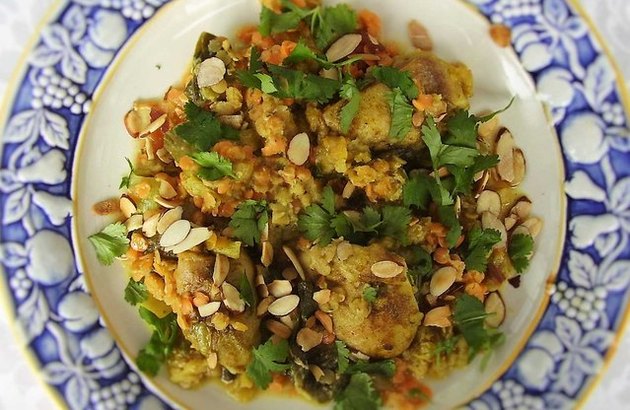 No matter what your health or weight-loss goals are, including a diversity of whole foods in your diet is essential for obtaining the variety of nutrients your body needs, Fox says. And this curry coconut chicken — chockfull of healthy ingredients — is a great place to start.
To begin, this delicious dish is bountiful with bok choy. The Chinese cabbage is "rich in multiple minerals, including magnesium, potassium and calcium, which help promote bone health," Fox says.
Plus, in addition to poultry, hearty lentils provide a plentiful source of "plant-based protein that contains an array of nutrients and a whole lot of fiber," Fox says.
Indeed, thanks to all the filling fiber, protein (a whopping 43 grams per serving) and healthy fats, you most likely won't need a big serving to feel satisfied.
To reheat: Warm in the microwave or heat in a pan on the stovetop. Fox recommends "adding a small amount of water to the pan to prevent sticking, as the sauce will be thick."
3. Egg,
Spinach and Portobello Breakfast Sandwich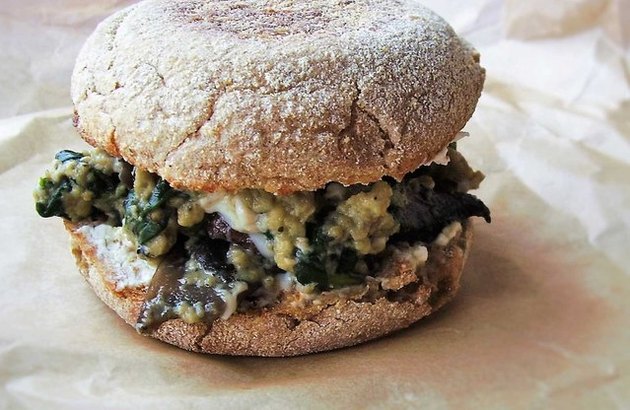 Compared to a McDonald's Egg McMuffin, this healthier alternative contains twice the fiber and way less sodium (250 fewer milligrams). Even better, this tasty toasty is made of nutrient-dense whole foods and minimally processed ingredients, which is ideal for promoting a healthy weight, Fox says.
Not your average egg sandwich, this breakfast patty is stuffed with spinach and meaty mushrooms, "which are both loaded with antioxidants to help reduce oxidative stress in the body, ultimately helping to decrease inflammation and promote overall health," Fox says.
Want more healthy recipes? Download the MyPlate app and get simple, tasty meals and snacks tailored to your nutrition goals.
Did we mention this scrumptious sandwich is also the perfect balance of carbohydrates, protein and fat? A major plus for those of you counting macros.
To reheat: Warm the egg mixture in the microwave or on the stovetop until thoroughly heated, then serve on a freshly toasted English muffin.
4. Savory Herb and Bell Pepper Hot Cereal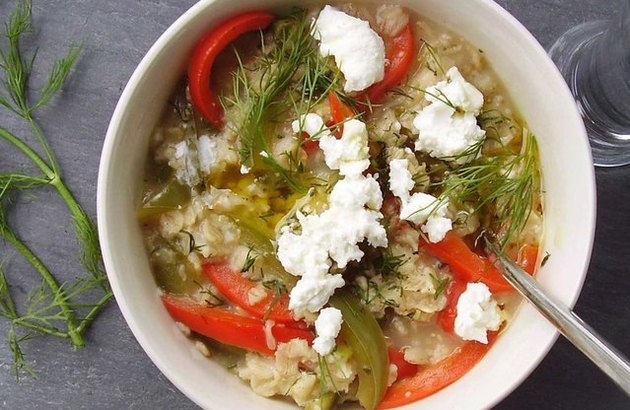 If you're looking to optimize your health and weight-loss goals, opt for oatmeal in the morning. It contains a special type of fiber called beta-glucan that can aid in appetite control, according to a May 2014 study in Nutrition Journal.
"The complex carbohydrates from the oats not only promote fullness and satiety, but also will give the body long-lasting energy compared to your usual sugary cereal that can cause a crash in energy and possibly even create more sugar cravings," Fox says.
Perfect for savory breakfast-lovers, this tasty twist on classic oatmeal forgoes fruits for ingredients like fresh herbs, goat cheese and colorful bell peppers and is a simple way to sneak more veggies into your day, Fox says.
Rich in vitamin C and carotenoids (which are converted into vitamin A in the body), bell peppers help to promote strong immunity as well as healthy skin and eyes, Fox says.
To reheat: Microwave or heat in a non-stick pan until warmed. Then top with additional fresh herbs for extra flavor.
5. Spicy Breakfast
Burrito
Who doesn't love a breakfast burrito? Rather than using classic breakfast meat (think: salty ham, sausage and bacon), this healthier wrap incorporates two protein-packed, plant-based alternatives: tofu and beans.
"This simple swap creates more variety in the diet, which can assist with getting a wider range of nutrients, and also helps to lower saturated fat, cholesterol and sodium, which is optimal for overall health and weight loss," Fox says.
This bean-based burrito is also loaded with bell peppers, which are crammed with vitamin C and carotenoids to protect the body from inflammation; healthy fats from avocado, also rich in vitamin C; and vitamin B6, an extremely important nutrient for brain and immune health, Fox says.
To reheat: Fox recommends keeping the burrito filling mixture in a separate container apart from the tortillas. Heat the filling in the microwave or on the stovetop, fill the tortillas and top with fresh salsa and avocado.
6. Slow Cooker Beef Stew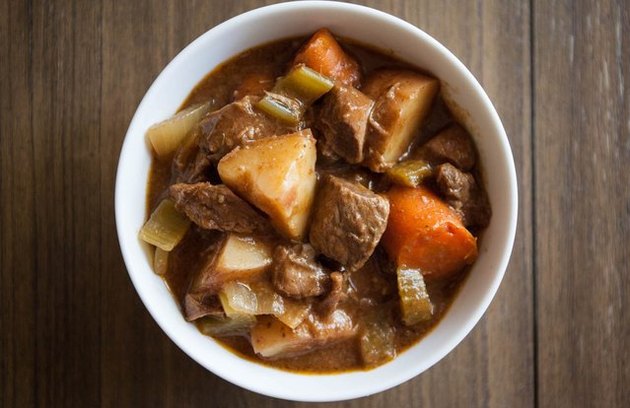 "This stew recipe is a perfect example of how you can still enjoy your classic comfort foods while also incorporating more nutrient-dense ingredients into your diet," Fox says.
This flavorful beef stew makes healthy-yet-simple substitutes — like using whole-wheat flour instead of refined white flour — which adds B vitamins and increases the nutritional profile of the dish.
Teeming with veggies, Fox loves that this savory stew combines carrots, which are abundant in antioxidants and vitamin A to support strong immune health, and onions, which are a good source of vitamin B6 and folate for healthy cell function.
To slash sodium, Fox recommends replacing beef broth with a veggie variety and only salting for taste before serving (rather than throughout the entire cooking process).
To reheat: Warm in the microwave or a non-stick pan on the stovetop until bubbling.
Concerned About COVID-19?
Read more stories to help you navigate the novel coronavirus pandemic: